Who would've thought Alberta would be the most miserable province, but according to a new study that's the harsh truth.
Considering the province has beautiful landscapes, mountains and the famous, Lake Louise, maybe you're wondering how this is possible.
READ MORE: 4 Major Cities Across Canada Just Ranked Among Best In The World For Balancing Work And Life
A "Misery Index," created by the Macdonald-Laurier Institute, shows which provinces are suffering from the pandemic.
The misery index includes three factors during its rating process: disease, COVID response and economic impact misery.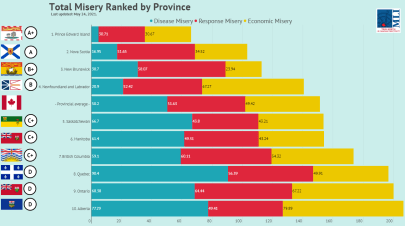 Looking closing at the data, it seems Ontario, Quebec and Alberta had poor responses in all categories during the pandemic.
Another contributing factor to Alberta's poor scoring is due to an increase in the unemployment rate.
Since the demand for oil has reduced, this has led to layoffs.
Ontario and Quebec have both had strict lockdown protocols which has caused a massive hit to the economy.
Ontario currently has the highest amount of COVID cases compared to other provinces and territories.
However, Canada's eastern province, Prince Edward Island is ranked number one.
In all three categories P.E.I. had the lowest ranking compared to all the other provinces.
By analyzing the chart it's safe to say the Atlantic provinces handled the COVID crisis better than the other's.
Canada ranked 10th on the misery index
Canada scratched their way into the tenth spot on the misery index chart.
Our neighbours, The United States are sitting at ninth place.
In total, Canada scored an overall combined ranking of a C+ according to the misery index.
According to MLI, Canada's vaccine rollout and strong restrictions played a huge factor into the misery index.
The data shows Canada's economic misery is quite severe and taxpayers may have to pay the price in the years to come.